AVAILABLE NOW . . .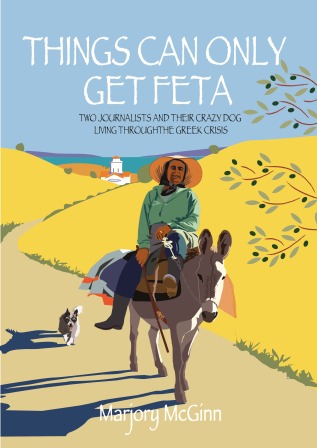 THINGS CAN ONLY GET FETA
Two journalists and their crazy dog
living through the Greek crisis
A new book about Greece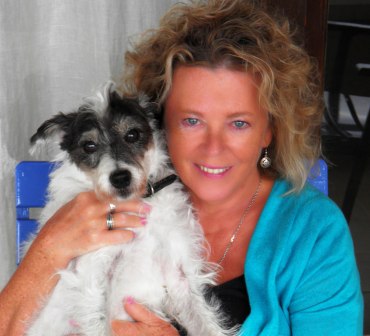 Three years ago, my partner Jim and I were living in a sleepy Scottish village. But we felt life needed a shake-up. So, along with our dog, Wallace, we set off for an adventure in the remote southern Peloponnese region of mainland Greece.
The timing couldn't have been worse, with Greece facing economic meltdown. As well as that, life in a small hillside village presented huge challenges - every day. And taking a manic Jack Russell to a country with zero-dog tolerance? Well, madness really.
How did it pan out? Read about the adventure in
Things Can Only Get Feta (Two journalists and their crazy dog living through the Greek crisis) by Marjory McGinn. Published by Bene Factum Publishing Ltd, London (July 2013).
Here's a brief outline ...
After an Arctic winter, a British recession, and a downturn in the newspaper industry, two journalists embark on an adventure (with their lovable but crazy dog) in the wild, beautiful Mani region of the Peloponnese. It's a perfect plan, except for one thing - Greece is deep in economic crisis. And if fiscal failure can't overturn the couple's escapade in rural Greece, perhaps macabre local customs, a scorpion invasion, health scares, touchy expats, and dog drama on a major archaeological site, will.
This is a humorous and insightful journey through one of the last unspoilt regions of Greece. It is full of encounters with warm-hearted, often eccentric, Greeks who prove time and time again that this troubled country still has heroes, if not euros.
In a traditional hillside village, where only two Greeks speak any English, the locals share their lives, their laughter and their stories and help chart the couple's own passage back to happiness. They even find a place in their hearts for their Greek nemesis - the local pungent goat cheese. Things really can only get feta….
REVIEWS OF THE BOOK:
Anthony Weldon, publisher of this book, described it as... "original as a piece of travel writing...a light, personal story that reads like a novel, yet its characters are all the more likeable for the fact that they are real".
Peter Kerr, best-selling author of Snowball Oranges: "An honest view of 'away-from-it-all' life in Greece today, as seen through the refreshingly unblinkered eyes of a very gifted author. An engaging, humour-spiced book that entertains and informs in equal measure. Highly recommended."
Harry Bucknall, author of In The Dolphin's Wake: "Marjory McGinn's laconic wit and delightful style bring the herb-infused landscape of the Mani to life with joyous ease."
Gillian Bouras, award-winning Australian author of Aphrodite And Others: "You will enjoy the adventures of these two intrepid travellers. Their various scrapes are recounted with wit and verve, and the writing style is extremely accessible."
To buy the book in paperback or Kindle:
For readers in Greece:
In Stoupa, it is available at Katerina's supermarkets.

For more information ...
To follow Marjory on Twitter: